GOLDEN DRAGONS
Introduction of the Founder, Chief Instructor & Examiner
The 1st & Only Martial Artist in India,
awarded with Honorary Citizenship of Miyoshi City, Hiroshima, Japan.
1st Indian as an Official Observer for the 8th ASEAN Kendo Championship, Bangkok, Thailand
The 1st Official Martial Artist in the State of Andhra Pradesh registered by Government Dept. of culture A- HYD. 116360.
Recipient of many Commendations & Awards from Army, Police & civil organizations
Specially the Army "Basantar Award" from 2nd in command Colonel P. K. Sur.
Since 1984 Teaching Martial arts to
Children, Youth and Adults from various walks of Life.
A Master of High Spirit & Etiquette,
Dedicated for the cause of Education through Martial Arts.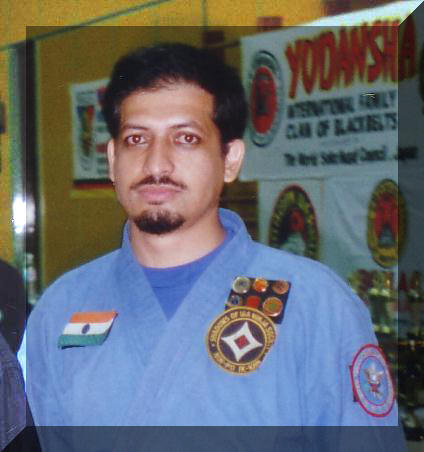 Prof., Dr. Syed Mohammed Siddiq Mahmoodi
Regional Director of
United States Martial Artists Association
&
BLACK DRAGON Society (S. Africa)
Founder of
KENDO INDIA FEDERATION,
GOLDEN DRAGONS
&
NINBUKAN
(The first & only Indian citizen to get this honors)
Recipient of Life Time Achievement Award from USMAA
Also
Ph.D. (Martial Arts)
M.D. (Alternative Medicines)
Dip in Acupuncture., F.R.H.S.,
Physiotherapist., Chiropractor., Osteopath., Acupuncturist.,
Shiatsu therapist., Magneto therapist., Aroma therapist.,
Faith Healer, Expertise in counter for Black magic & witch craft ,
Health counselor., M.A., PG. Dip in Business Admin.,
PG. Adv Dip in Japanese Lang., PG. Dip in Family Health Education.,
Dip. in Office Administration., Certificate in Civil Defense,
Professor
Of American College of Martial Science.
Martial Arts Ambassador For India
Of American College of martial Science.

Of Martial Arts Association International.

Of World Organizer of Martial Arts.
CONTACT ADDRESS
"Golden Dragons" 14-1-494/1, Aghapura, Darusalaam "X" roads,
Hyderabad 500012, AP, India
contact # 0091-9885044250
Fax: 0091-40-24804019
E-mail:- goldendragons@yahoo.com
---
---